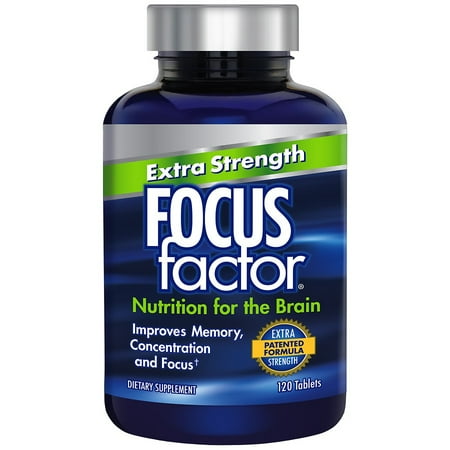 If you're looking for a brain health supplement that can help you improve your memory, focus, and concentration, then Focus Factor is the perfect choice for you.
Focus Factor is a potent blend of vitamins, minerals, and antioxidants that support cognitive health and brain function. The powerful ingredients in Focus Factor have been clinically shown to improve memory, focus, and concentration. Focus Factor is the perfect supplement for students, working professionals, and seniors who want to stay sharp and boost their brainpower. With its convenient pill form, Focus Factor is easy to take on the go. Simply take two pills per day with a meal, and you'll be on your way to better brain health.
The core Bacopa Monnieri, Ginkgo Biloba, Phosphatidylserine, DMAE, Vitamin D, and a huge list of other premium ingredients. Other ingredients include Vitamin A, Vitamin C, Vitamin D, Vitamin E, Thiamin, Riboflavin, Niacin, Vitamin B6, Folate, Vitamin B12, Biotin, Pantothenic acid, Choline, Calcium, Iron (as carbonyl iron), Iodine, Magnesium,  Zinc, Selenium, Copper, Manganese, Chromium, Molybdenum, Potassium, Dimethylaminoethanol (as DMAE bitartrate), L-glutamine, bacopa,  L-pyroglutamic acid, phosphatidylserine, docosahexaenoic acid concentrate (15% DHA from fish (anchovy, sardine, and salmon) body oil), inositol, N-acetyl tyrosine, bilberry fruit standardized extract (25% anthocyanosides), gamma-aminobutyric acid, grape skin, and grape seed extracts and many other such ingredients.
With a patented and clinically tested original formula, Focus Factor has been proven to be effective in improving mental clarity and focus for both men and women. The unique blend of ingredients in Focus Factor is designed to support optimal brain function, making it an excellent choice for anyone seeking to improve their cognitive performance. In addition to its cognitive benefits, Focus Factor also provides energy and support for healthy brain function. With its combination of powerful ingredients, Focus Factor is the perfect supplement to help you stay sharp and focused all day long.